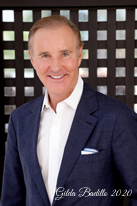 Dennis Carey is Vice Chairman of Korn/Ferry International, and accomplished author.
He has recently published, 'Boards That Lead' in conjunction with boardroom veterans Ram Charan, and Michael Useem. They advocate a new governance model— which acts as a sharp departure from what has been demanded by governance activists, raters, and regulators—and reveal the emerging practices that are defining shared leadership of directors and executives. Based on personal interviews and the authors' broad and deep experience working with executives and directors from dozens of the world's largest firms, including Apple, Boeing, Ford, Infosys, and Lenovo, Boards That Lead tells the inside story behind the successes and pitfalls of this new leadership model.
He has also authored three books on CEO Succession and corporate governance, and is a frequent contributor and writer for the Harvard Business Review, The Wall Street Journal, Financial Times, and McKinsey Quarterly.
At Korn/Ferry International, he has led CEO recruitment and succession projects for some of the most successful CEOs in business, including TYCO International, 3M, AT&T, American Standard; GSK, Amgen and Humana, among others.
Mr. Carey has also spearheaded major Board reconstructions due to IPO's and spin-outs. Companies include Phillips 66 as it spun out of Conoco; Carlyle as it launched its IPO; Visteon, Delphi, and Lehman Brothers as they emerged from bankruptcy; Goldman Sachs as they launched their IPO; Tyco International which required a complete rebuild after the current CEOs recruitment in 2002; and then rebuilds for all their spin companies including, Covidien, TE Connectivity and ADT; as well as the ITT spin-offs Exelis and Xylem, among others. He has personally served over 75 Fortune listed companies recruiting for their boards.
Mr. Carey's board affiliations include NextGenTV, Airclic, and ScanLife. He formerly served as a director of Closure Medical, which was sold to Johnson & Johnson.
Dennis Carey is the founder of G100, the Lead Director Academy and the CEO Academy, and the co-founder of the Directors Institute at The Wharton School, the Prium, the CHRO Board Academy, and the CFO Board Academy. He also serves as on the advisory board of BoardRoomIQ.com.
He holds a doctor of philosophy degree, with a focus on finance and administration, from the University of Maryland, and is a former post doctoral fellow at Harvard University.
Mr. Carey swam the English Channel in 1980, and is on the Board of the Swimming Hall of Fame.
View Dennis Carey on: